This new protein shake, called Daionic, comes from a family run and award-winning dairy farm in the West Wales countryside.
It's owned by farmer Laurence Harris, who was a finalist in the 2006 BBC Farmer of the Year Award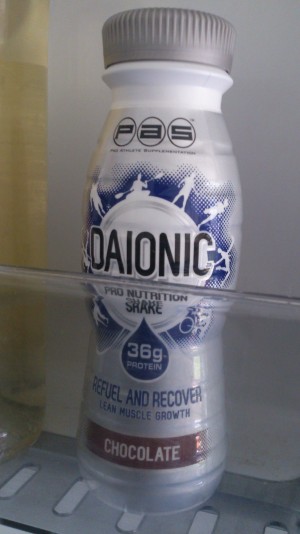 s. He started a company called Trioni in 2002 to sell fresh and long life organic dairy.
He's now come up with a milk-based protein shake, called Daionic, with some help from Pro Athlete Supplementation Ltd (PAS). The name Daionic is a mix of the words 'Dairy' and 'Organic'.
We've been sent chocolate and strawberry bottles to try and they certainly don't have any of the chemical-type taste you often have with protein shakes. This is really surprising as each bottle of Daionic has more protein than any other sports nutrition drink on the market – 36g of protein per 330ml bottle. But it's because a lot of that protein figure comes from the organic semi-skimmed milk that's mixed in with the whey protein. The end result is that it tastes more milk shake than protein shake.
Even better is that there is no added sugar or aspartame (but it does have sucralose) and it's only £2.49 a bottle.
Available at gyms nationwide and online at:
www.pasonline.co.uk