HERE'S the Eagle Creek Morphus bag – named so because it actually morphs into two bags.
In normal use it's a wheeled bag so its ideal for taking on as hand luggage when you fly, but the really cool aspect is you can unzip the front away from the black backing shell to make a zip-off gear bag which has its own rucscac straps.
The backing of the wheeled bag is polycarbonate and the zip-off gear bag simply houses back into it when you want it to be wheeled luggage again.
It's very easy to use – and just as we found with the Afar backpack – everything is well made. One of our favourite features on this is the water resistant 'bathtub' compartment at the base so the Morphus can sit in a puddle without soaking up the water.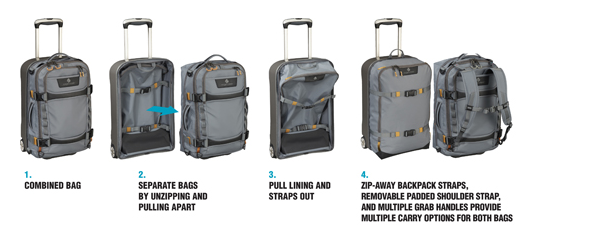 When it's on your back as a rucsac the sternum strap has a safety whistle and there are reflective patches of fabric for nighttime. The zips also come with meta loops built into them so you can lock them with a small padlock and there's a quick stash pocket for travel essentials.
The Morphus is available as the Morphus 22 (£300) and the Morphus 30 (£400) and comes in a choice of Black and Stone Grey. The Morphus 22 has a 48L gear bag and 47L wheeled bag, while the Morphus 30 features a large 94L gear bag and 91L wheeled bag. It also comes with Eagle Creek's No Matter What damage repair policy – which means if your bag is damaged, Eagle Creek will repair or replace it free of charge – no matter what.
Available from Penrith Survival, Tiso, Breaking free and Foxes Outdoor.
www.eaglecreek.com