EVERY now and then Adventure 52 gets something sent through the post out of the blue and these Lyons coffee bags were one such arrival – and a very welcome one at that.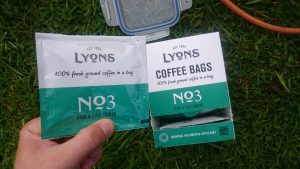 The timing couldn't have been better as I was due to set off to the Peak District for a training run (ahead of the Rab Mountain Marathon) in September, so I packed the box in my brew kit and looked forward to trying them out.
The first thing I need in the morning is either a cup of tea or coffee, but I often leave the cafetiere at home when I camp as I can't face the faff of brewing up a coffee and having to wash up it up afterwards. With these coffee bags, it's easy. You just take one out of the foil bag, put it in your mug, pour hot water over and leave to brew. What you'll notice is these coffee bags are much bigger than a tea bag and another thing you'll notice is the heavenly smell as you take it out of the foil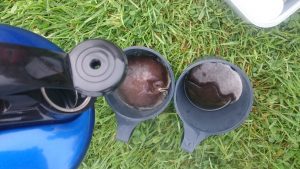 pouch…
I'm happy to say that even though it's made from a bag, the coffee tastes like real 'posh coffee'. You can even put the used coffee bag back inside the foil pouch after you've used it and that makes it a neat way to carry it home in your rucsac.
Four blends are on sale – a No.2 Light and Smooth, a No.3 Rich and Full Bodied, a No.4 Dark and Intense and finally a Decaffeinated one.
I tasted the No.3 and it hit the spot and I can't wait to try out the No.4 blend sometime soon.
Available from Waitrose, Tesco, Sainsburys, Nisa, Ocado, Morrisons at £2.59 for a box of 18.