Let's start by telling you what's actually in a PRIME bar.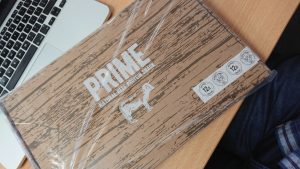 They're a rectangular bar of beef (from grass-fed cows) with mild flavourings added, such as the Apricot & Carrot or Chili & Red Pepper versions you see here. The additional ingredients added to the beef are all natural. So the 'orange' bar has apricots 10%, rice vinegar, carrots 3%, apple juice, sea salt, sage, paprika, black pepper, garlic in it. And the 'red' bar has dates, red wine vinegar, red pepper (3%), sea salt, apple juice, tomato, honey, smoked paprika, chilli (<1%), garlic and black pepper.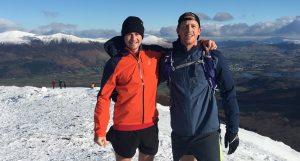 The PRIME bar has been created by athletes Fred and Luke (pictured right) who were growing tired of sugar-filled snacks with zero nutrition or added chemicals in them and the possibilities of long term damage the snacks could have. Luke's family has been in the butchery business for generations, so together the pair worked to come up with the PRIME bar, named as such for the 'prime' beef they use.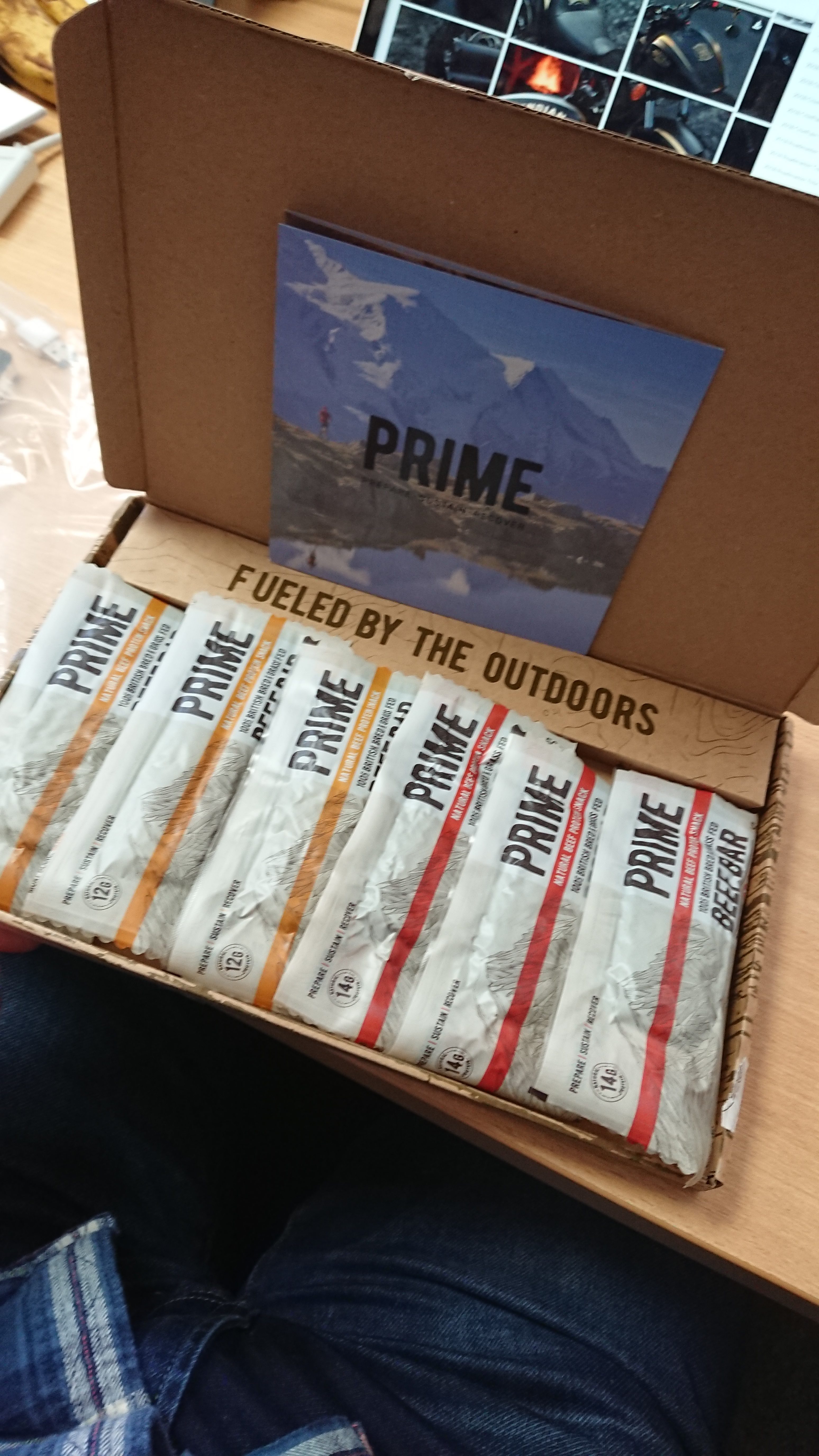 The small slab of pre-cooked beef is in a vacuum-sealed wrapper (so it stays fresh) and this wrapper is see-through on the back so you can actually see the meaty goodness – something I think is a great idea  and lets people who might not have tried these before, to actually see what the bar looks like.
The front of the wrapper has the map contours of Mont Blanc drawn over it, making this appealing to the adventurous among us and is a nod to the Ultra Trail du Mont Blanc which Fred & Luke will be running in later this year.
For me, it was a real novelty to open it up and actually see what it tasted like. I started with the Apricot & Carrot flavour first. The bar isn't chewy like steak or beef jerky; instead it's pre-cooked beef formed into a bar shape. It melts in your mouth and isn't tough and chewy at all (and you can read on the PRIME website about how "time and hard work allowed them to perfect the slow cooking and drying technique". This of course means it's very easy to bite into and swallow, particularly if you're eating it on the move. At first, it's a strange texture, but then the flavour comes through and the savouriness is definitely welcome, especially if you're on a long run or hike and are sick of eating sweet snacks. I usually carry crisps to get that fix of 'savoury', but I will now plan on having a couple of these with me instead. Plus if you're looking to repair from a heavy workout or long run, each bar has between 12g and 14g of protein – as the strapline on the bar says, it's all about 'Prepare | Sustain | Recover'. It's also a snack you can eat at your desk at work – as you can see I have done in these photos.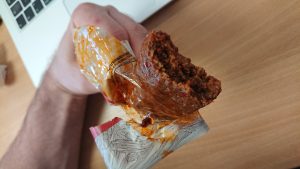 My ridiculously low tolerance to anything with chili in it means that the red bar (chili and red pepper) was a little to hot for my tastebuds, but again, it was full of flavour and I'm sure others out there who like their chili will be swearing by these.
At the moment you have to buy these online through PRIME's website. At 12 bars for £29.99, that comes out at £2.50 which is about what you pay for the likes of a Grenade Carb-Killa bar. At the moment there's a special deal on a sample box, where you can get 6 bars (3 of each flavour) for a special price of £18 (usually £21) which is what I was sent to try out. Those 6 PRIME bars fit perfectly in a letterbox-sized cardboard box – it's a brilliant concept. There's an option to have these come through the post every month as a subscription, so you can have 12 bars for £26.99 a month (£2.25) or a regular sample box for £16.20 a month.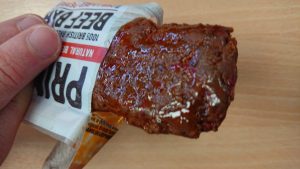 For me, it's not just about getting a really decent source of protein with these PRIME bars. It's also about the quality nutrition and the vitamins and minerals in them. You're getting vitamin A, vitamin B, Omegas 3, 6 and 9, Calcium, Iron, Zinc and Magnesium too, something that shop-bought whey protein bars can't give. Sure, you can argue against the saturated fat in the beef, but I'd take that over some of the sweetening and preservative chemicals that are now in some whey protein bars.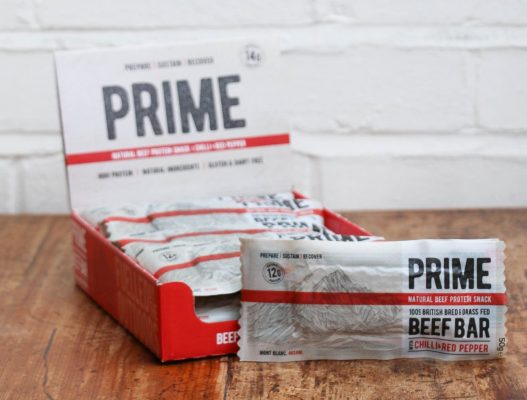 Fred and Luke really have come up with an alternative to processed and high-sugar snacks. If you're active in the outdoors and eating energy or protein bars that have additional extra chemicals in them to make them 'taste like' a sweet chocolate bar, then consider cutting back on them and adding a PRIME bar in to the mix.