REFURBISHMENT work started on the Canaves Oia Hotel in the winter of 2011.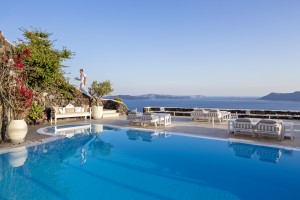 It's taken three years to complete and you can see why; this rustic retreat on the northern tip of Santorini Island in Greece now has one of the most impressive infinity pools we've ever seen.
It overlooks the Aegean blue sea and it has an underwater bar, serving cocktails and smoothies…
Oia itself, is a picturesque village on the northern tip of Santorini Island, the kind of place that appeals to those seeking swimming or sailing adventures.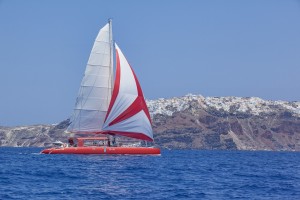 If it's the latter, then we will be well looked after. The hotel offers six different sailing experiences. One of which is on a Voyager 74. First stop is at the Red Beach for 30 minutes of swimming and snorkeling. Second stop is at the White beach for about an hour of swimming, snorkelling and a barbeque on board. The third stop is at the hot springs for 30 minutes of swimming in the warm mineral waters and finally, the last stop is below Oia, to watch the magnificent sunset of Santorini and then returning back to Ammoudi port after the sun sets.
Canaves Oia Hotel has 17 suites in total, 10 of which have a plunge pool. The property has a boutique aesthetic, with the all-white, contemporary interiors complemented by warm sandy tones and antique furniture, giving it that rugged appeal.
Starting price per room per night (rates 2015): 365 Euros (approx £290). Rate includes American champagne buffet breakfast or American room service breakfast.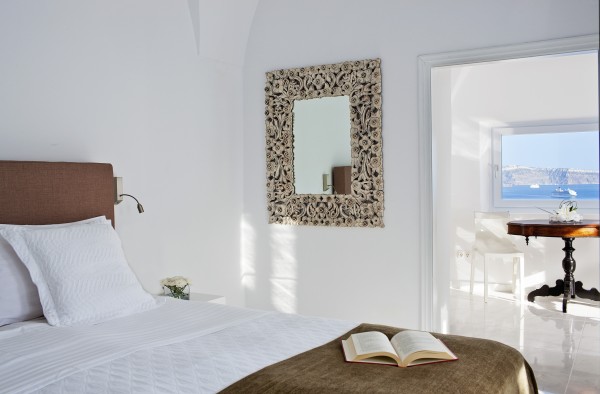 When you've had enough of the pool, there's plenty to explore nearby. From having a candlelit dinner service (in their brand new on-site restaurant) to wandering around the vibrant village of Oia. Not forgetting, of course, the pleasure of coming back to a cool, all-white bedroom on your return from a day of adventuring.