Go back 40 years and trail running races didn't really exist.
Runners did challenge themselves on mountain courses and back in the day, the 23km long Mont-Blanc Cross route was the challenge to conquer and the course remains pretty much unchanged since 1979.
I have heard about the Mont Blanc Marathon over the years and last year, out of the blue, I was invited out by Salomon to spend time with its professional running team. I would also see if I had what it takes to complete a 23km race. The longest I have run before was 33 miles over two days for the Rab Mountain Marathon.
The only thing is, the invite came just two weeks before the race…which meant I was going to be running it with no proper training. It was going to be a challenge, and one that I was excited about. If you're looking to enter this race, then you need to get your entry in before the October before. It's too late to enter the 2018 race, sadly, but maybe reading this now might persuade you to plan ahead for 2019.
Getting to Chamonix is really easy. Fly to Geneva and then pay for a transfer bus at Geneva Airport. I went with Alpybus and was dropped off right outside my accommodation, Apartment Bois du Bouchet.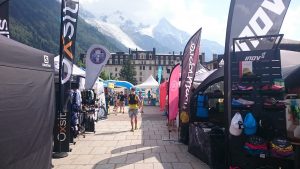 After throwing my kit on the bed, I walked in to town to explore Chamonix itself. I had dreamt about visiting here for such a long time and it didn't disappoint. Instantly I felt at home, like this was a place that makes me feel like me. The plan was for me to meet up with Salomon at the post-race press conference for the 80km long version of the race.
I knew little about the Mont Blanc Marathon route before my arrival. I didn't really have time to research it at all. I didn't even know what kind of time I should expect to finish it in; 23km is about 14 miles, so half a marathon. Three hours I figured. I decided I would focus on just crossing the line.
While the event is called the 'Mont Blanc Marathon', you might think it's a single race, but it isn't. When you explain to your friends that you're going to run the Mont Blanc Marathon, they'll immediately think it is a 26-mile long race. You'll soon get used to explaining that this isn't the case. I didn't realise just how many different races take place over the weekend either. There's an 80km race on the Friday, a 23km race on the Saturday and a 42km race on the Sunday.
Even if you only run the 23km, you earn 2 qualifying points towards the UTMB (the big race that loops around Mont Blanc). I discovered very quickly on my 23km race that I have some way to go with my hill fitness, but more on that in a bit…
DISCOVERING CHAMONIX
You only have to walk around Chamonix to feel inspired to do more with your life; whether that's hiking, climbing or paragliding. I passed a group of young lads and girls at a bus stop, waiting with ropes slung around their shoulders and ice axes in hand – and wondered where they might be heading. Looking up and around, you see spikes of rocks either side of the valley, making you daydream even more about what it must be like to be up among them.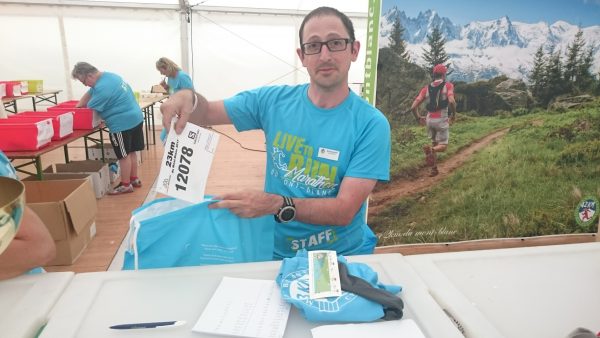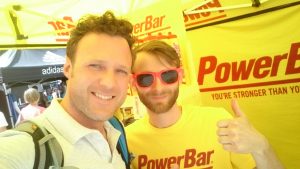 After queuing up to register and getting my goody bag, I wandered around a sea of pop-up tent shops to buy some last minute goodies. The guys at Powerade sorted me out with some energy bars and gels while Salomon said they would be giving me shorts, T-shirt and trainers to wear (they actually gave me a large haul of kit, some of which I continue to use). Deciding what to wear to run in takes a lot of time and thought. I'm still not getting it right. There's the obvious issue of getting kit that you like the colour of and matches goes with your other items (for some people this isn't important, but I prefer to get this right as it makes me feel good). Next there's the issue of comfort and avoiding clothes or shoes that cause you pain. I have really flat feet and suffer a lot with them, so getting the right shoes is essential.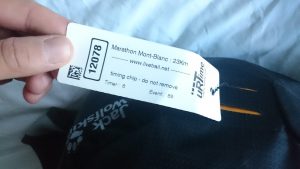 I headed back to the apartment to try on all my kit. I'd been given some S-LAB shorts, size M, which fitted me well. I couldn't believe how light they felt. I was also given a Fast Wing T-shirt, in size M, but it came up small on me, a pair of underpants (way too tight) and a pair of socks (but these were red and white and just did not go with the other colours of the gear I was wearing). Packwise I used my trusty Jack Wolfskin Rock Surfer 18.5 as I've worn it before so know how it fits. Salomon gave me an S/LAB Sense Ultra 8 set vest (in bright blue) to wear, but I hadn't used one before, so didn't want to risk running in it and getting uncomfortable. Plus I'd still need a pack to carry the essential kit you need to take. I have since ran a lot with the S/LAB Sense Ultra vest and it's brilliant (I'd prefer one in black though). I was also given a Minim Speed Hoodie, but this was more of a softshell, so something I saved to wear on another adventure another time.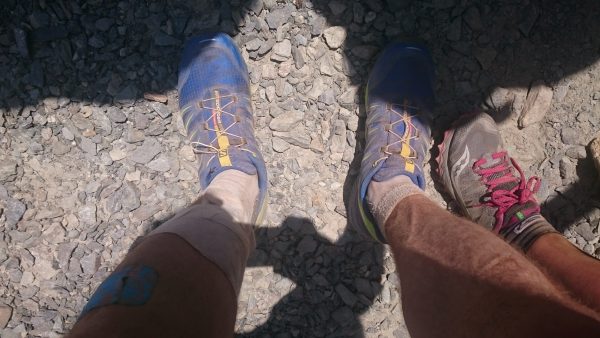 Kilian Jornet, for example, wore S/LAB shoes, a Sense Tank top and S/LAB 4 Running Shorts for the MBM. Stian Angermund-Vik and Marc Lauenstei both wore Sense 6 shoes, Sense Tank tops and S/LAB 6 Shorts while Max King wore Prototype Sense 7 shoes, Sense Tee and S/LAB 4 Shorts.
For the ladies, Megan Kimmel wore Sense 6 shoes, Sense Tank and S/LAB Light Shorts with a Sense Ultra 2 Pack. Ida Nilsson wore Prototype Salomon shoes, Sense Tank, S/LAB Light Shorts, Sense Ultra 2 Pack. Finally Annie Jean wore Sense 6 shoes, Exo Tank, Exo Shorts and a Sense Ultra 2 Pack.
That gives you an idea about what the pros are wearing.
A BBQ WITH LEGENDS
With my kit stashed back in the apartment, I wandered down down to the press conference, hosted in the beautiful Hôtel Hameau Albert.
All of the Salomon athletes had absolutely smashed the 80km run. For me, it was a strange sensation to be sat among the legends that I had previously seen only on social media or in videos. I scribbled a few quotes from the athletes, but I was still trying to work out who was who, and where they fitted in to the trail running scene. I was sitting right behind Kilian Jornet who had just summited Everest twice two weeks before; and was in awe and a bit star struck. I'd written about Kilian's Everest success for Running Fitness magazine just days before.
That evening I joined everyone at the team's chalet for a BBQ dinner and had a chance to chat to the athletes informally and to have some time with Kilian. You can read that interview here. Another person I was in awe of was Emelie Forsberg. I've followed her for a few years now and she was one of the kindest and happiest people I've ever seen. I was too shy to to try and talk to her!
All of the athletes had their own interesting stories about how they got in to trail running, but one of the best stories I heard was about a 75-year-old mountain guide called Henri Agreste, who has participated in all editions of the 23km race since 1979.
The Club des Sports has been organised the Mont-Blanc Marathon for nearly 40 years and it is now a highlight on the international trail scene largely down to the amount of energy they put in to welcoming, the well-being, and safety of the runners. For the past few years the Mont-Blanc Marathon has also been providing a service of care for the runners with over 60 physical therapists, podiatrists, reflexologists, and massage therapists.
RACE DAY
It's Saturday. I woke up, and look out from my bed at the beautiful sunrise. Why can't all of my Saturday mornings be like this? I made myself a large bowl of muesli for breakfast and sat out on the balcony, wondering what lay ahead of me in the race. Salomon's PR manager would be coming to get me a 7:30am, so I didn't have much time to get ready. I stick the tattoo of the course on my right forearm and instantly feel like a kid again when I used to cover myself in Spiderman or Superman ones.
I can already hear music and loudspeaker voices as I walking to the start line in the paragliding landing area. The atmosphere really starts to build with steel drummers, music and the sound of a compere firing everyone up. There were hundreds of other people' real adventure-looking types, and I instantly felt a part of something special and wondered why I haven't been and done this before.
I ask someone to take a photo of me, the one you see here. The T-shirt was very tight. When I looked at this afterwards I thought I look pretty heavy around the waistline! It certainly prompted me to up the exercise when I got back to the UK.
Everyone queued up behind the inflatable archway of the start line. The countdown started with everyone cheering and yelling. The feeling when I set was was indescribable and I started out at a good pace, trying not to trip anyone up as we started threading our way along the valley floor and up towards Argentiere.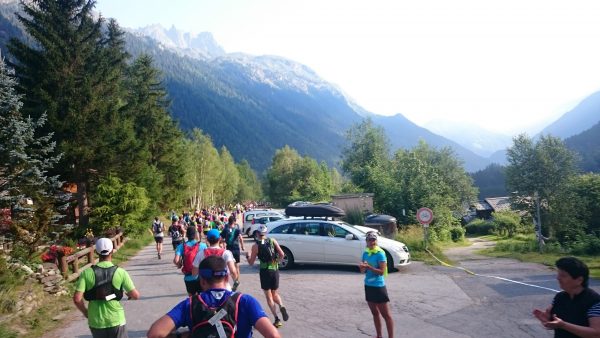 I was sweating a LOT, there is an ever so gradual incline up to Argentiere and then the odd steep section, mainly through the trees. In between bursts of running and steep climbs, I could just make out peaks between the trees and as the minutes passed and the sun got higher, I started to become a lot, lot warmer.
At the first refreshment point in Tre Le Champ, 11.5 km in, and at 1,385m, I had that first moment of thinking I had bitten off more than I could chew. I was flagging. I went up to one of the refreshment desks with my mug outstretched and then laughed at myself as saw everyone else with their very lightweight 'race cups'. There's some vital grams I could have saved from carrying had I known…
I re-filled my 2.0L bladder while I was here too. I slid it back into it's home in my pack and swung it on my back. Just as I did this I felt a rush a cold water drench my back, my pants and my shorts. Sh*t, the bloody cap hadn't screwed on properly. Cursing myself, I set off again, feeling very uncomfortable. I just hoped it would dry out as I ran. It didn't.
UP AND UP…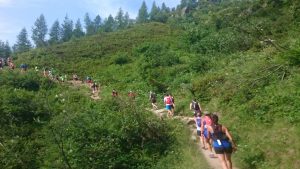 Up and up and up. How do people even run this, I say to myself as I struggle to put one foot in front of another up the steep climb from Tre Le Champs to Le Bechar (1,691m).  I'm no longer running, I'm walking and even then I'm struggling to keep pace with people. My thighs are burning and seizing up and I find I'm already having those deep conversations where you tell yourself to keep going. I find myself repeatedly looking down at the tattooed map on my forearm, trying to work out how many more climbs I have ahead of me. It's getting hotter too and I can see hundreds of people stretched out in front of me, further reinforcing the idea that I'm not doing very well. I tell myself to just try and get through the next 30 seconds. There are occasional flat sections that link between the steep ones and I manage to pace back into a run along these. I find I go through waves of feeling energetic and that I'm fine (the highs) to times of complete exhaustion and wondering if I'm actually going to finish.
LE BECHAR TO LA FLEGERE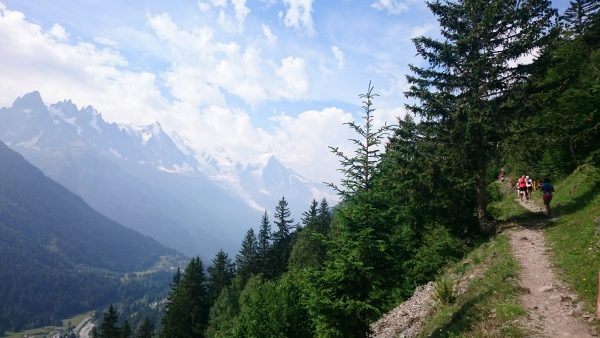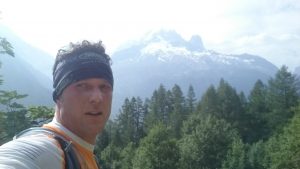 There's a small section of downhill just after the peak at Le Bechar, and it feels good to descend. Little did I know that I was about to face one of the toughest sections; a gradual climb from 1,450m up to 1,865m to La Flegere (where they'd be another refreshment station, but I didn't know that at the time). By this point I had people passing me, which remains one of THE most demoralising parts of running in a big event like this. I push on, determined to cover the ground. In time I can see the ski station that is La Flegere and by this point I'm ready to stop. I munch on some crackers and wash it down with two large mugs of Coca Cola. I check my progress on the app and can see where I am in the overall standings. I hadn't done too bad in the first stage to Le Tre Champs, but now I was falling back fast. I sit down on the dust outside the ski station and take in the views and the atmosphere. The sweat on my forehead cools and I feel a wave of endorphins kicking in, making me feel quite happy to stay where I am. But there is still 5.2km to go, and I pick myself up (wincing in pain as I do) and try to get going again.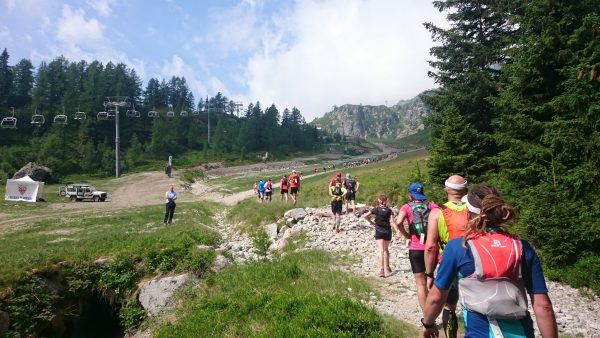 THE LAST FIVE KILOMETRES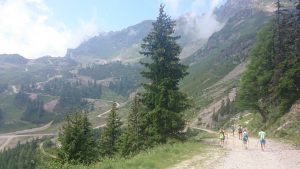 The next 2.5km involved a mix of of up and down at around 1,850m and gave me wondrous views of the mountains and Mont Blanc and it was along this section where I really felt like I was up high and doing some proper trail running. This was the feeling I was after and would be what I would remind myself of instead of the brutal pain. At La Charlanon I'm faced with looking up at the very final climb and I remember vividly wondering how I would get up it. It sounds like I am exaggerating, I promise you that my thighs and my joints were screaming at me. The stage goes from 1,810m and up to 2,016m over 2.7km, but I had nothing left and even doing a 'fast hike' was taking it out of me. In the last 50m I managed to get up to a jog, but only thanks to the cheering of spectators and me wanting to cross the line doing a run. I have never been so pleased to see a finish line. In the queue to collect my medal, I can't wait to go and sit down, but there's a 15 minute wait as the line of finishers make their way through a refreshment tent. I fill my mug to the brim with orange squash and find a nice spot on the grass to meet Salomon's PR man. I'd finished just under 5 hours (4hrs 59min 26 secs to be precise). To get back down to Chamonix you are given a ticket to take the cable car, but the short walk down to it is agony. Still, I feel a huge sense of achievement and a longing to want to become a much better trail runner. Practice makes perfect.