Osprey has given us the rundown on new additions that'll be available this autumn.
So far in 2020, the brand has been big on pushing the sustainability message, in that it doesn't want to keep on producing more fabrics and plastics. We've seen this pledge from Osprey already in the form of the Archeon rucksack that we reviewed back in February that is made from recycled material.
ARCANE COLLECTION
To keep moving this way, Osprey has announced they'll be a limited edition Arcane rucksack made from hemp and recycled polyester in an almost half and half ratio. Hemp is a natural fibre that's fast growing, uses three times less water to grow than cotton and when combined with the recycled polyester (14 water bottles says Osprey) gives the rucksack the durability and water resistance it needs. The Arcane Hemp Day and Arcane Hemp Roll Top both have metal componentry and a padded laptop/tablet sleeve plus plenty of internal organisation. Each comes in brown or grey and costs £100.
The existing Arcane range now also comes as a roll-top design to add to the small/large day pack, tote, brief, laptop sleeve and duffel styles. Again, all the materials used are PFC free and are made from recycled fabrics.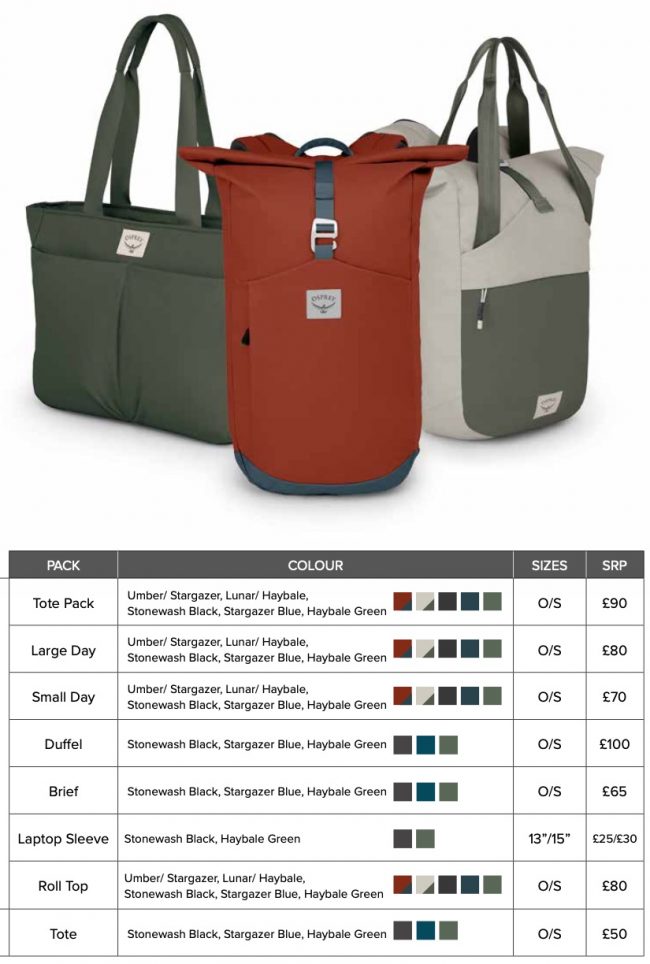 EVERYDAY COLLECTION
All of the packs in the Everyday collection have received a design refresh and come in some fresh new colours. From carrying your laptop on the daily commute to stylish packs for your city break, there is something to bring a little outdoors into the everyday.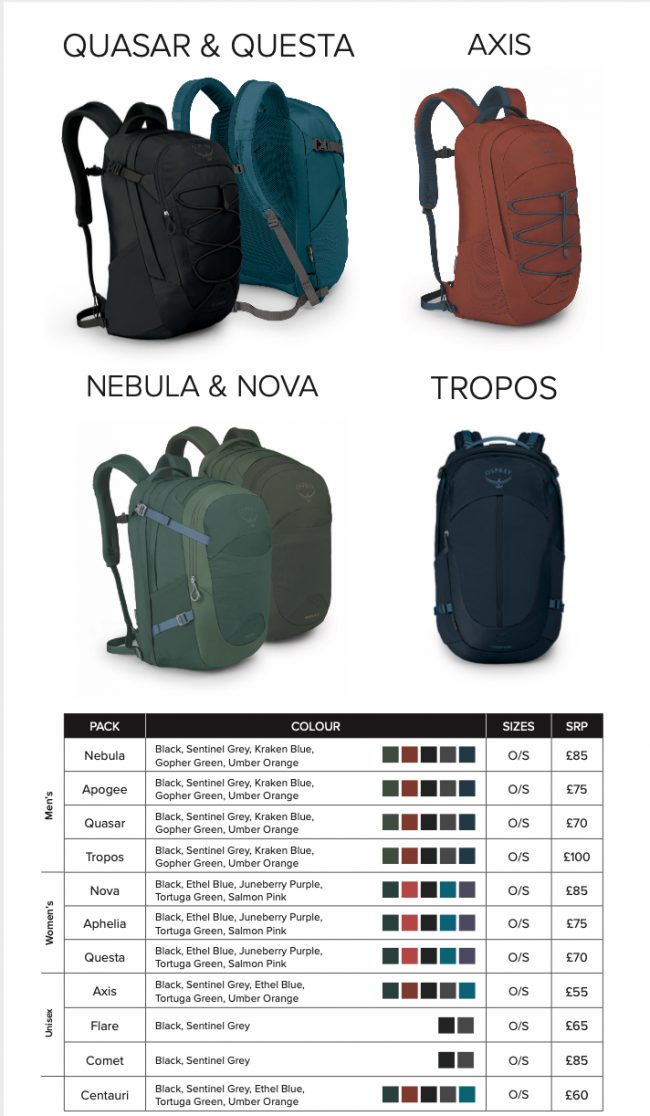 DAYLITE COLLECTION
New additions to the Daylite collection include the Daylite Travel pack and the Daylite Waist pack.
The Daylite Travel is perfect for exploring your destination and features travel organisation pockets and a secure tamper-proof construction.
The Daylite Waist is a lightweight and comfortable waist pack for carrying those everyday essentials.

Also joining the series is the stylish new Daylite Duffel; a lightweight and versatile duffel that's perfect for gym sessions and spontaneous weekend getaways.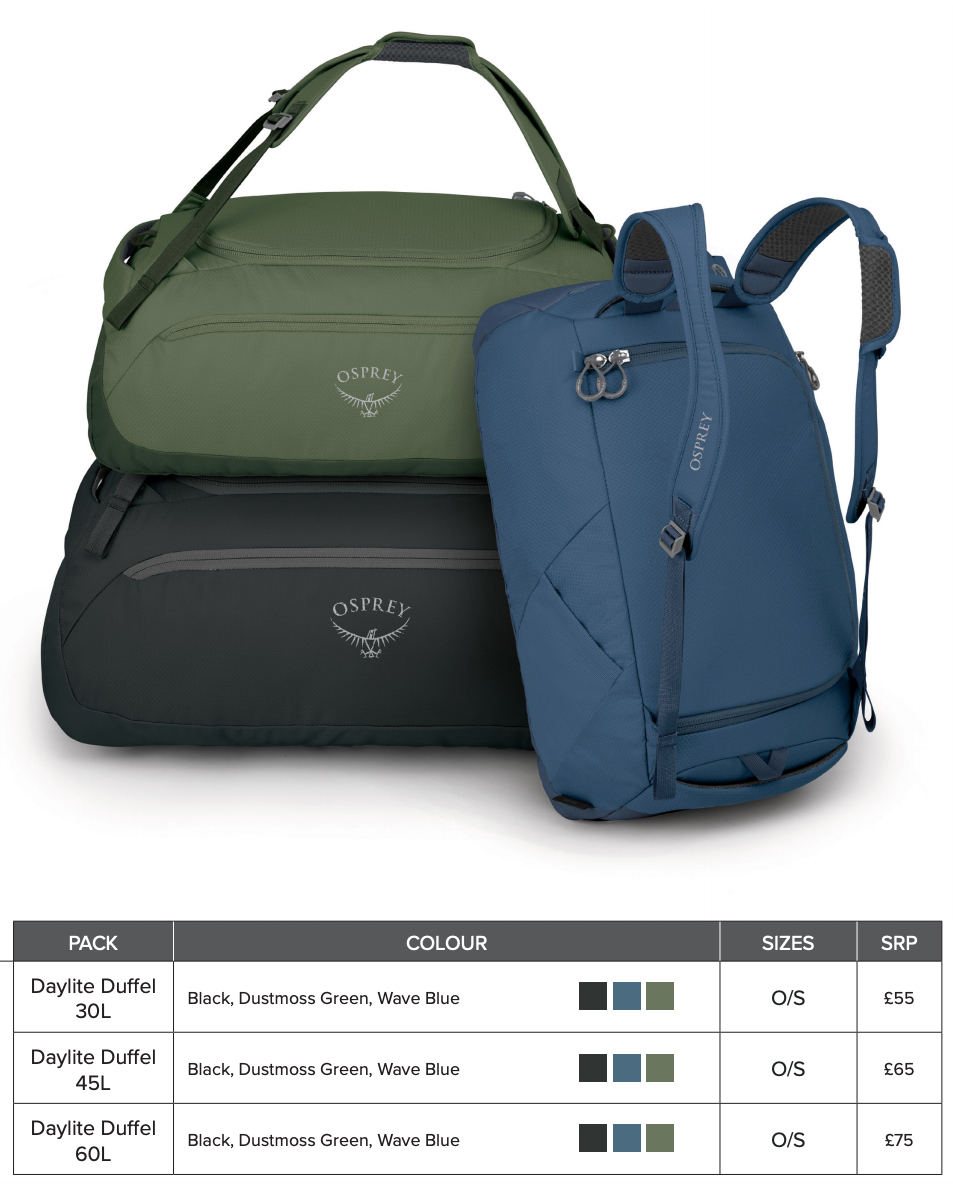 TRANSPORTER COLLECTION
The Transporter Roll, Zip and Duffel now come in Camo Black or Camo Slate Grey colours. The newest addition is a 'Panel Loader' pack that as the name suggests has a panel that lifts open and closes to gain access to the pack, shown below on the far right.
ROLLING TRANSPORTER
The new Rolling Transporter is the much-anticipated wheeled version of Osprey's Transporter duffel series. From active and adventure travel holidays to gear heavy expeditions, the Rolling Transporter is the ultimate duffel with all-terrain wheels.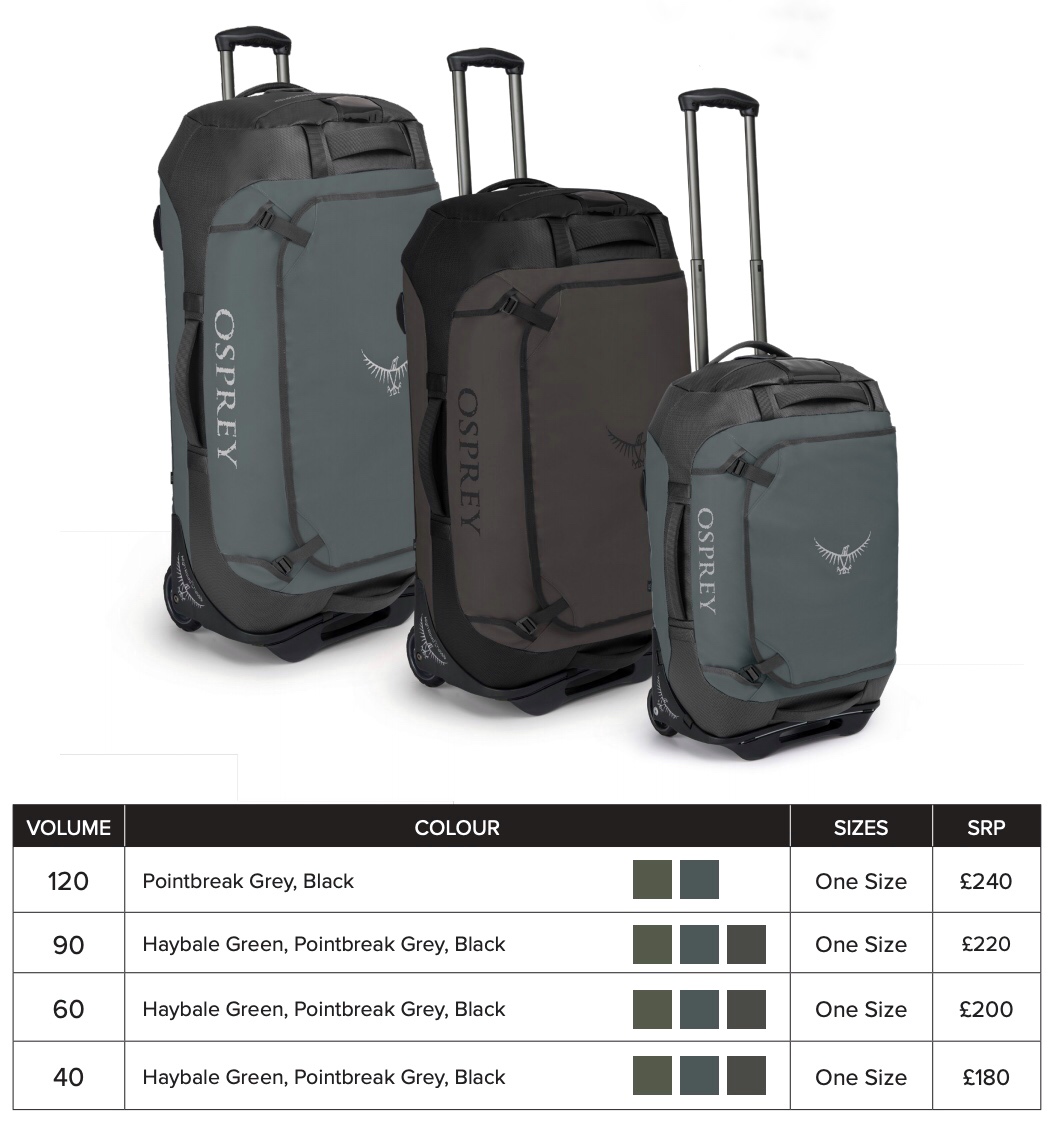 PORTER COLLECTION
The Porter is now made from 100% recycled nylon and ideal for the frequent traveller. Protective compression sidewalls will ensure your main luggage is safe while an internal padded laptop sleeve provides that extra peace of mind for your important electronics. There's a stow-away harness that can taken out so you can carry this on your back after picking it up from the baggage reclaim carousel at the airport. It's also compatible with the Daylite an Daylite Plus packs.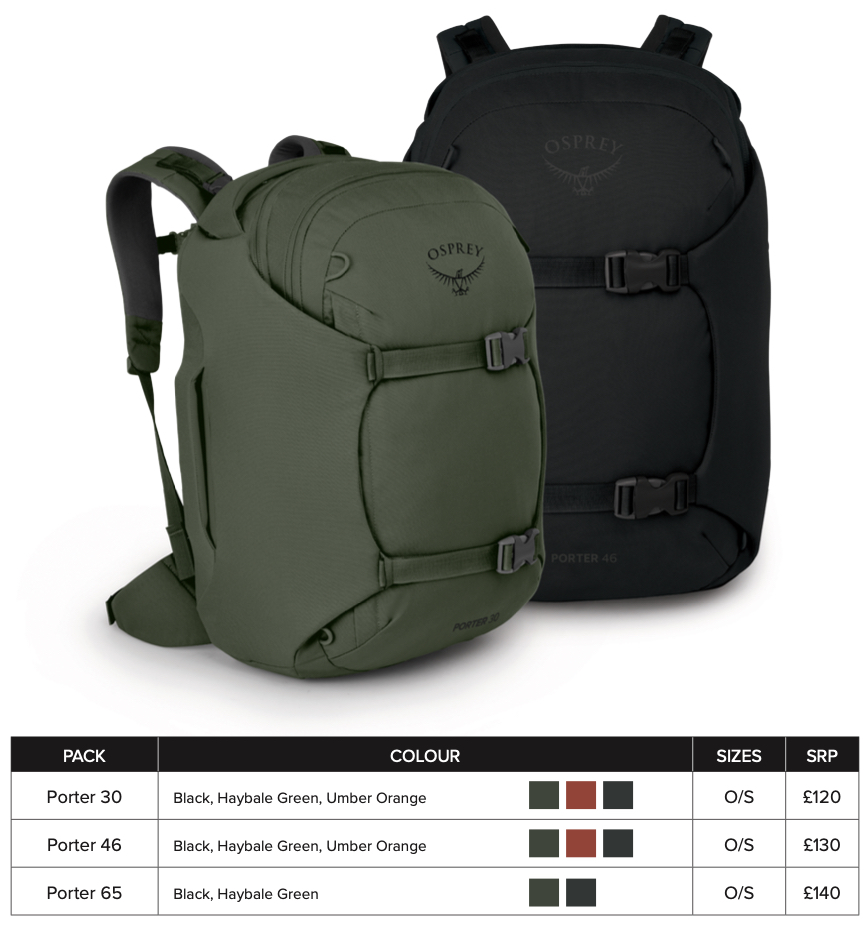 SNOWSPORTS COLLECTION
Finally, for skiers and snowboarders come these special packs. There's the Soelden for men and the women's specific fit Sopris. Each comes in two choices of volume and let you carry your skis or your board on the back as well as giving you quick access to a shovel and probe, back panel access and you can even carry your helmet.
Soelden 32
Sopris 30


There's also a Pro version that has an electrically activated air bag system, one of the lightest on the market at just 2.7kg. So instead of having a compressed gas bottle to inflate the air bag, this one is triggered electrically. You charge the battery up yourself in between use (this means you can do practice inflations without then having to go get a new gas bottle fitted) and you can inflate 30 times before the entire system needs to go away to be serviced. You can also travel on aircraft with this as there's no compressed air canister. When the airbag inflates it can withstand up to 500kg of snow force. The pack is made from Nano fly fabric which is very tough and won't get torn by the sharp edges of your skis or snowboard.


See more on www.ospreyeurope.com